Art Island Does ADW
NOVEMBER 9, 2021 12:00PM - 2:00PM
This ain't no zoom room- it's a choose-your-own-adventure virtual studio tour created by a local art collective! Wander around Art Island ATX's digital world to uncover secret worlds of art, music, and conversation.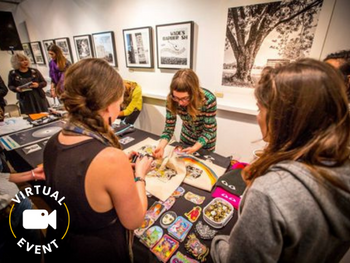 Art Island Does ADW
This ain't no zoom room- it's a choose-your-own-adventure virtual studio tour created by a local art collective! Art Island ATX designed this world inside of the platform Topia as a digital gathering place during quarantine times. Since 2020, we've hosted many online parties featuring stand up comedy, DJ sets, live drawing + painting, as well as tea service and fire arts. Join in at any point to network with local creatives, experience live performances, browse original content, or simply explore a new platform for connecting.
SPEAKER
Maria Gotay, Co-Founder, Art Island ATX, Maria Gotay (Prev: afterglow, Everlywell)
A fixture in the Austin events production scene, Maria is a designer and producer focussing on wellness and community. She co-founded Art Island ATX to provide a platform for creatives from many different communities to showcase work in a casual and collaborative atmosphere. She is also a DJ and multimedia artist.
SPEAKER
Ryan Padgett, Co-Founder, Art Island ATX, Belle Epoch (Prev: Accomplice)
Ryan Padgett is a Technical Director and the owner of Austin, Texas-based consultancy Belle Epoch specializing in immersive content and experiential software. He studies audiovisual and experiential design, physical computing, and computational art. He has extensive experience in motion, VFX, projection mapping and immersive environments. He is also a DJ and co-founder of Art Island ATX.
SPEAKER
Morgan Baker, Creative Producer, Art Island ATX, Pyrotex (Prev: Fjord)
Morgan is a self-employed creative in the worlds of design, fashion, and multimedia arts. She leads production on Art Island's ambient and fire arts and is at the heart of Austin's local fire community as a member of Pyrotex Fire Collective.
LIVE DJ
Jen Lasher, Head of Music, Art Island ATX
Our head of music takes over the dance floor inside of our digital world to give a sampling of Art Island-style tunes while you explore the space. Jen is a full-time DJ who has toured internationally alongside Skrillex and other world-class acts. She currently has Austin-based residences at Simi Estiatorio and Voodoo Room.
INTENDED AUDIENCE
Everyone