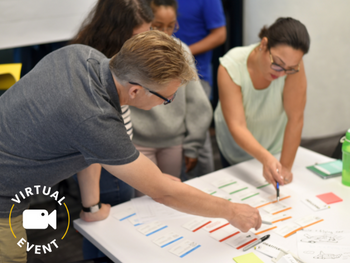 Build a Creative Team That Thrives, No Matter Where They Are
Our team shook the magic 8 ball and it said that continuous change was without a doubt here to stay. But instead of bracing for the future ahead, could we adapt the way we work to thrive no matter what comes?
Every team is different but not so different that they wouldn't benefit from being more resilient. But building that resilience across geographies, time zones, specialties, and working styles is no small challenge.
Join Joe Montefusco, Brand Design Lead, for a facilitated discussion on what you can do to build your team's resilience, no matter your role or unique situation. Leave with approaches to building resilience within creative teams and new connections who are implementing them.
SPEAKER
Joe Montefusco, Brand Design Lead, Mural
Joe Montefusco is an art director focused on making tech brands more human. He is currently the brand lead for the collaboration tool MURAL and most recently was a brand design lead for Mailchimp. He has also worked on brands like Base (Acquired by Zendesk), hallo, Palantir, Netlify, Remind, Fellow, and The Ready. Joe is based in Atlanta, GA where he lives with his wife, his beagle, and his baby son. He also dislikes describing himself in the third person.
DAY
Thursday, November 11th
INTENDED AUDIENCE
Brand designers, creative designer, creative directors, creative