Childhood, Optimized: Designing the Future of Growing Up
NOVEMBER 12, 2021 10:30AM - 12:00PM
How might technology help raise our future generations? In this design fiction workshop, you receive a challenge from everyday parenthood, explore brainstorming cards, and invent the future of childhood.
Capitol Factory - Captain America, 8th floor
701 Brazos St
Austin, TX 78701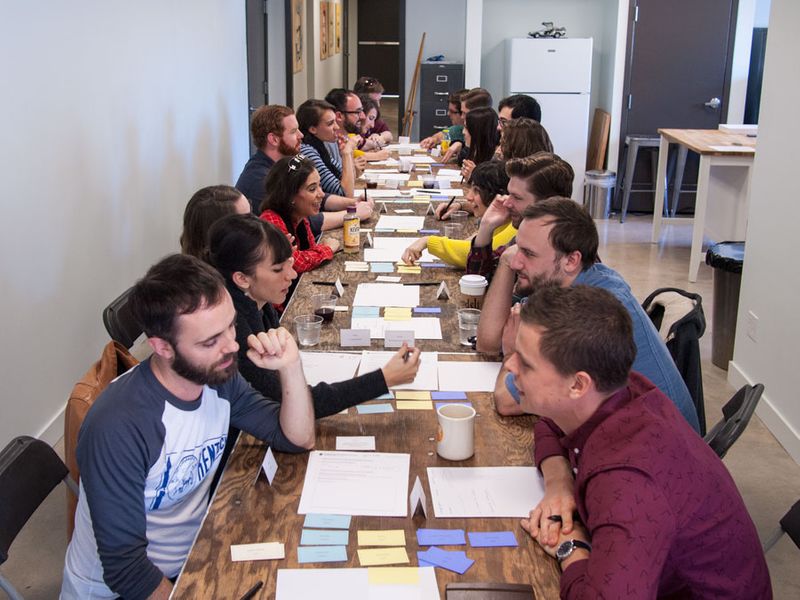 Childhood, Optimized: Designing the Future of Growing Up
In science fiction, we might encounter future technologies—say, a 'smart crib' that teaches baby all the essential skills, from sleeping to personal branding. But those are usually mere ornaments in a larger story.
In design fiction, we envision only the technological artifact—e.g. the smart crib—as a prototype, a blueprint, a sales pitch. Without a plot, there's open space for the viewer to fill in.
This design fiction workshop invites you to become 'laboratorians' that invent the future of parenthood and childhood: How might technology raise the next generation?
Paired with a partner, you're prompted with an everyday challenge of raising a child. Provided with our creative ideation kit, you draw the blueprints for an invention to resolve your problem.
As you ideate, go ahead and twist the knob beyond what's marketable, feasible, or even desirable, today. Explore those deeper questions about our relationships with technology. How far do we outsource? How deep do we integrate? Let's investigate the broadest possible spectrum, to understand where we draw the line.
At the end of your ideation session, we discuss our inventions as a group and reflect on the futures we've envisioned.
Welcome to a world of problems, solved.
FACILITATOR
Ernesto Morales, Owner and Creative Director, Studio Malagón
Ernesto D. Morales is a designer and artist based in Austin, with roots in Mexico City. By day, he is the creative director of Studio Malagón, a design agency that cultivates ideas, stories and experiences. By night, he runs Object Solutions, a laboratory of 'design fiction' that explores alternative futures.
LOCATION

Capitol Factory - Captain America, 8th floor
701 Brazos St
Austin, TX 78701
ORGANIZED BY
Object Solutions
INTENDED AUDIENCE
Definitely not just designers or parents. The goal is to invite people to harness their inherent creativity. We invite both the playful and the critical. I've run this workshop with diverse groups at venues that invite this mode of thinking: an art gallery, a bookstore, an academic conference. People interested in science fiction are a great fit, especially those who have a critical eye toward technology, consumer goods, and how our everyday worlds are designed. 'Black Mirror' has popularized the cautionary tale about near-term futures, and this workshop runs in that vein—with a dose of dark humor.
701 Brazos St
Austin, TX 78701