Co-creating a Storage Space and Employment Opportunities for People Experiencing Homelessness
NOVEMBER 8, 2021 10:30AM - 11:30AM
Beginning with user research, interviews and workshops involving people with lived experience, an idea for a transitional storage center for people experiencing homelessness in Austin was made a reality.
Native Hostel
807 E 4th St.
Austin, TX 78702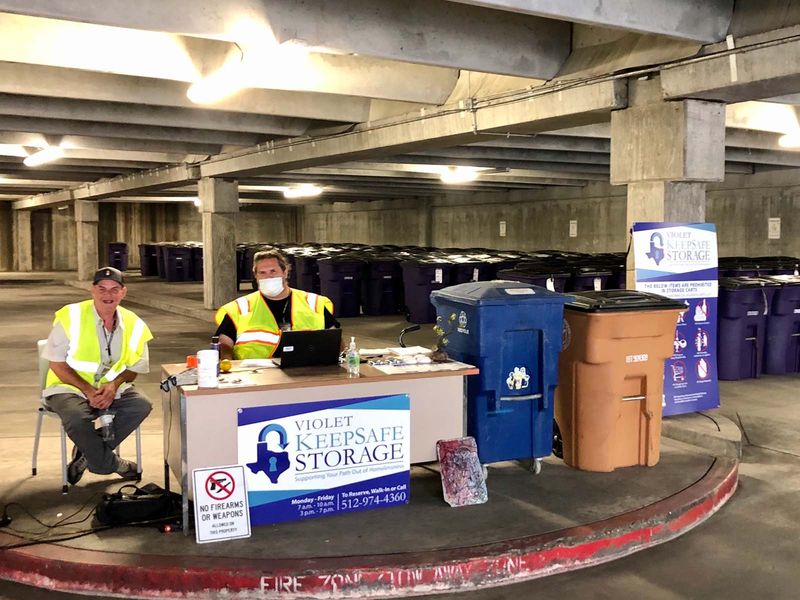 Co-creating a Storage Space and Employment Opportunities for People Experiencing Homelessness
After housing, healthcare and nutrition, storage is one of the most critical needs for people experiencing homelessness. When identification documents and personal possessions are lost, stolen or thrown away, a person must start over at zero on the difficult process of replacing them - prolonging their experience of homelessness. Providing storage for people is an emerging best practice for helping people transition out of homelessness, while creating jobs to help them along their way.
Service Designers Kelsey Willard and Mark Janchar conducted user research, held Design Jam ideation sessions and tested prototypes for a storage center that was co-created with people experiencing homelessness to find a model that would best meet Austin's specific needs. Violet KeepSafe Storage is now open in downtown Austin and has the capacity to provide storage for up to 500 people, and employs 4 full time attendants who are currently or have recently experienced homelessness themselves.
SPEAKER
Kelsey Willard, Service Designer, City of Austin
Kelsey has been working as a Service Designer for the past five years. She has focused her skills as a designer and practiced mainly on social good projects including topics like affordable housing data, homelessness, library services, and food access. To get in contact with her, reach out on her portfolio, kelseywillard.com.
SPEAKER
Mark Janchar, Service Designer, City of Austin
Mark Janchar is a Service Designer with the City of Austin. Mark began working in homelessness as a Paramedic, where he would frequently run calls on people in encampments and saw the limited treatment he could provide as insufficient attempts to treat a larger systemic problem. He became a Service Designer to understand complex social problems and figure out how to solve them.
LOCATION
Native Hostel
807 E 4th St.
Austin, TX 78702
ORGANIZED BY
Kelsey Willard & Mark Janchar
INTENDED AUDIENCE
Anyone interested in civic designers, service designers, social workers, researchers, or public service providers.
PARKING & TRANSIT
Paid street parking and back lot parking
807 E 4th St.
Austin, TX 78702