CreativeMornings ATX
NOVEMBER 12, 2021 8:00AM - 9:30AM
CreativeMornings/Austin is a free monthly speaker series based on the belief that everyone is creative and everyone is welcome. November's theme is Liminal.
Virtual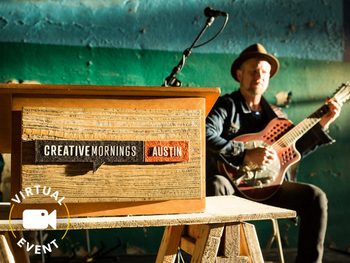 CreativeMornings ATX
CreativeMornings/Austin is a free monthly speaker series based on the belief that everyone is creative and everyone is welcome.
November's theme is Liminal.
When we find ourselves in an in-between place, we might call our location "liminal." Liminal space is found at the threshold, between leaving an old life and starting a new one. When we have shed a tired identity but not yet donned a fresh one. Liminality is a state of becoming. It slips away, eluding easy categorization.
Invite yourself into the cocoon of transformation. Instead of asking what comes after the chrysalis, what if, in the words of anthropologist Anna Lowenhaupt Tsing, we look around rather than ahead? If we learn to trust the process, we can remain curious and open. We can surrender our certainty and leave ourselves vulnerable and open to the mysteries of being. What joy and sweetness can we find in all this, in the depths of liminal spaces and times?
SPEAKER

Court Lurie is a painter and artist who has been exhibiting nationally for over 15 years. Her work has been featured in many design and lifestyle magazines, on television, and in several industry publications. She has been commissioned for public and private installations, and is represented by five galleries in the US. She has received several awards including the esteemed Juror's Award from Gladys Nielson at Woman Made Gallery in Chicago. She was awarded fellowships and did residencies from the Jentel and Brush Creek Foundations and was an Artist in Residence this summer at the Kimmel Harding Nelson Center for the Arts. Her work hangs in public and private collections around the country from the University of New Mexico Hospital to Austin City Hall, the Westin and Four Seasons Hotels, and Bergstrom International Airport.

Having served on an advisory committee at Art Alliance Austin, been the Program Manager for the Albuquerque Arts Alliance, and been the Education and Volunteer Coordinator for the prestigious contemporary arts organization, 516 Arts in New Mexico, she has spearheaded collaborations with other artists, organizations, and community government for the past two decades, advancing support and dialogue around issues regarding arts and culture. She is genuinely invested in making art accessible. She draws on her experience as a leader to facilitate effective communication between diverse groups of people and organizations. She mentors several young artists, as interns and apprentices that work directly with her in the studio, volunteers within the arts and health care communities, and is committed to sharing her experience, knowledge and gifts with others.

She is also a trauma sensitive yin yoga instructor, Reiki Master, spiritual guide, and is genuinely committed to serving and supporting others in their journey of awakening.
ORGANIZED BY
CreativeMornings
INTENDED AUDIENCE
Open to all attendees