Data-Driven: An Interactive Panel on the Future of Design
NOVEMBER 8, 2021 5:00PM - 6:00PM
Join MODintelechy for an interactive panel on data, design, and technology—and how creative thinking augments their compounding impact.
4005 Guadalupe Street
Austin, TX 78751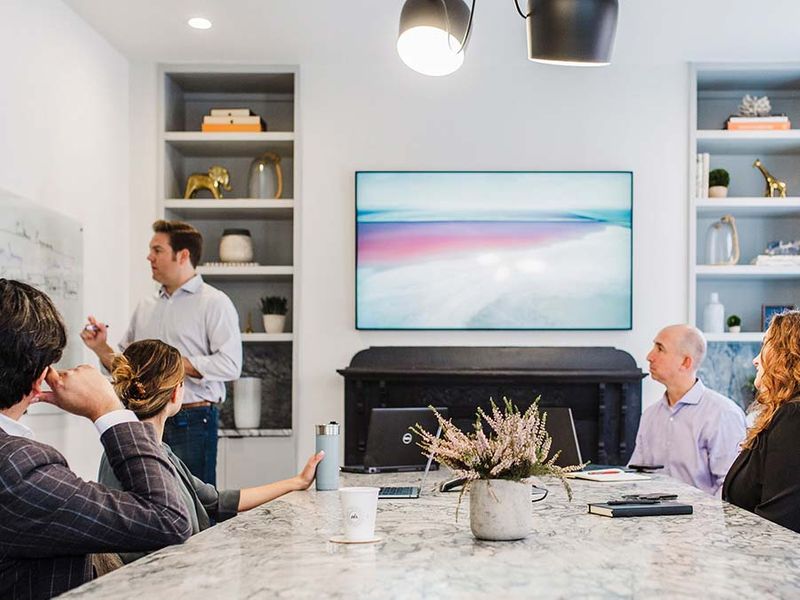 Data-Driven: An Interactive Panel on the Future of Design
The relationship between data, design, and technology has always been fundamentally powerful, but never more noisy than now. As the creative community continues to push the boundaries of design, how do we make sense of all the noise? And more importantly, how do we move forward with the context and confidence necessary to make a meaningful impact on the future?
MODintelechy presents an interactive panel exploring how cross-functional collaboration and the use of smarter technology can help designers more effectively leverage data to shape the stories they tell. Join us at our historical home on Guadalupe Street, where we'll lead two probing conversations around:
1. (Data) - We will explore how to educate teams on embracing "too much data," and how the right mindset is required to surface actionable data for design.
2. (Technology) – With the web moving toward innovations like smart contracts in the blockchain, we'll look into the future and hypothesize changes across digital identity, expression, privacy, and transparency—and how this impacts our creative community.
SPEAKER
Scott Thomas, Founder & Chief Experience Officer, MODintelechy
With a background working for and with such industry leaders as Accenture, American Express, AT&T, Bank of America, Cisco Systems, Citicorp, Dell, HP, IBM, Microsoft, Panasonic, Siemens, Yahoo and numerous high growth companies, Scott creates and executes our new go-to-market strategies, leads marketing and brand transformations, and implements in-market programs for regional and national clients. In his spare time, this nature-lover enjoys spending time with his family, Duke Basketball and is committed to visiting at least one new country each year.
SPEAKER
Maria Orozova, Founder & Chief Creative Officer at MODintelechy
Maria has more than a decade of experience developing advertising and branding campaigns for local and national clients. Her work has earned 16 ADDY® awards and 50+ American Graphic Design Awards, with special recognition as one of Graphic Design USA Magazine's "People to Watch." In 2017, she was named an Austin Under 40 Awards winner. A dedicated philanthropist, Maria is passionate about giving back to the Austin community and is a long-time supporter of Ballet Austin and Austin Sunshine Camps. She serves on the Fashion Marketing Advisory Board for The Art Institute of Austin as well as on the Board of Directors for the Girls Empowerment Network (GEN) and Center for Child Protection, where she is a founding member of the Guardian Angel Society.
SPEAKER
Adrian Olvera, VP, Client Engagement & Strategy, MODintelechy
Adrian is perpetually curious, highly accountable, and always learning from the talented people around him. He has 15 years experience in digital marketing, content marketing, CRM, lifecycle marketing, and product management on both the agency-side and client-side. Adrian challenges himself to build positive and collaborative environments for teams, enjoys partnering closely with cross-functional teams, and believes psychological safety is incredibly important to the health, productivity and sustainability of the entire team.
SPEAKER
Amanda Cardona, Marketing Technology and CDP Specialist, ALC Renaissance Consulting
Digital, Email, and Database Marketing specialist Amanda Cardona spent 7 years at Dell Technologies developing regional CRM strategies, and driving strategic initiative integration between Global Online, Global Marketing Technology and other cross-functional teams, before setting up her own marketing consultancy which partners closely with MODintelechy. Outside of Customer Data Platform integration, Amanda likes to dabble in world travel and dance instruction, choreography and performances.
SPEAKER
Joanna Brown, Creative Director, MODintelechy
As MODintelechy's Creative Director, Joanna Brown brings 20 years of passion in leading compelling initiatives for a wide range of brands. With experience at large scale agencies (Saatchi Pro & Razorfish) across London, New York, and Austin, there's not an industry she hasn't tackled or brief she hasn't brought to life. She's worked with global and nationally recognized brands such as J.P. Morgan Chase, Unilever and Google—executing campaigns from concept to design to deliverable. When she's not reinforcing visual identities and brand standards, she's exploring her new place of residence (Austin) with her husband and daughter.
LOCATION
4005 Guadalupe Street
Austin, TX 78751
INTENDED AUDIENCE
Designers, marketers, technologists
PARKING & TRANSIT
Private parking lot (12 spots), ample street parking, Hyde Park MetroRapid stop 2 minute walk from building
4005 Guadalupe Street
Austin, TX 78751