Design Makes Futures
NOVEMBER 12, 2021 1:00PM - 2:00PM
What is the relationship between futures literacy and the design of services and systemic interventions? Adam will speak about how he coheres Design + Systems + Futures through the lens of Strategic Design.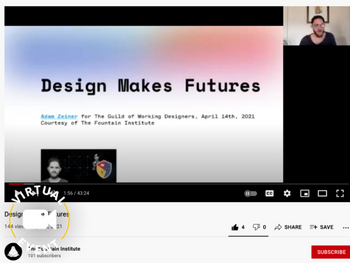 Design Makes Futures
Adam will offer ways for you to apply a futures-focused mindset to the design of services and systemic interventions. During this talk, similarities and distinctions between putting Services Thinking, Systems Thinking, and Futures Literacy into practice through the applied process of design will be explored with the audience.
SPEAKER
Adam Zeiner, Systems Designer, Design Institute for Health
Adam is a strategic designer, facilitator, and organizer focused on socially created "soft" systems, networks, integrating futures literacy into design practice, information architecture + visualization, and engaging w/ intimate and less formal communities of practice. Also, he really enjoys diagramming and informal mapping.
INTENDED AUDIENCE
Designers unfamiliar or slightly familiar with 'Futures Thinking' and Systems Thinking