Designing an Apology
NOVEMBER 11, 2021 2:30PM - 4:00PM
In this workshop, the team at Now Accepting Apologies will lead folks through communication strategies for how to make amends.
Cushing Terrell
316 W 12th St
Austin, Texas 78701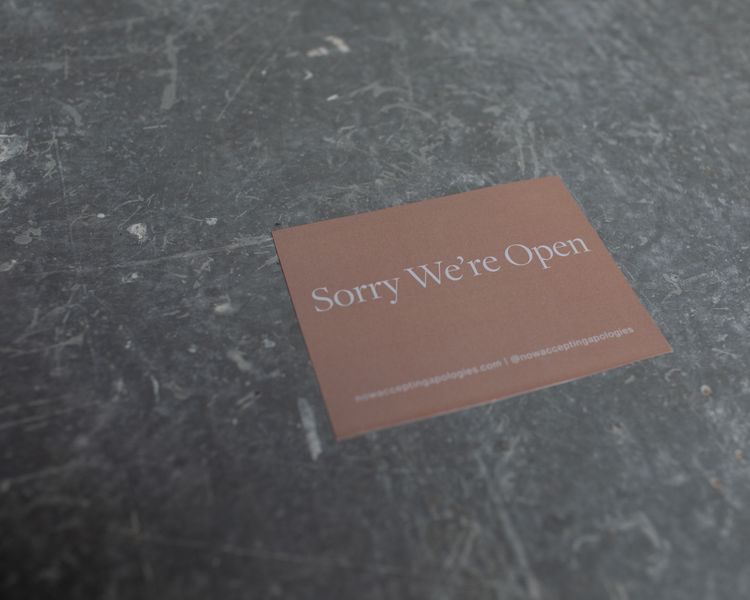 Designing an Apology
Sorry we're open.
The team at Now Accepting Apologies will lead a workshop on the communication strategies they have researched, learned, and practiced from leading experts and therapists around the U.S. This workshop will explore low-level harm in community, communication strategies, as well as a short discussion in community building from a restorative justice lens.
Now Accepting Apologies is a media project focused on storytelling and changing the culture surrounding accountability. It's for anyone who has ever wondered deeply about responsibility, consequence, justice, and forgiveness. Learn more at NowAcceptingApologies.com
SPEAKER
Illyana Bocanegra, Founder, Now Accepting Apologies
Illyana Bocanegra (they/them) is a communication designer living and working in Austin, Texas. They teach documentary filmmaking at The Austin School of Film, design print goods at the Texas Senate, and run a creative studio called SIMPÁTICA. Illyana wants to know where you're from, what you like, and if you know any cool ghost stories.
SPEAKER
Mac Benson, Founder, Now Accepting Apologies
Mac (she/her/he/him/they/them) is an artist, archivist, and unprofessional chef from Ohio. She takes things seriously and laughs too much. She believes in small towns, collaboration, goofing off, being a good neighbor, and storytelling. She is interested in your stories and is looking for the humor in our collective vulnerability.
LOCATION

316 W 12th St
Austin, Texas 78701
DAY
Thursday, November 11th
ORGANIZED BY
Illyana Bocanegra
INTENDED AUDIENCE
Community builders, people who care about friendship, people who are sorry and would like to make amends, people interested in communication, bosses who want to be better leaders, anyone with an affinity for being a better friend, leader, or support to someone they love
316 W 12th St
Austin, TX 78701