Designing the Future of Online Marketplaces Without Discrimination
NOVEMBER 8, 2021 3:30PM - 4:30PM
As more online marketplaces are built, we need to design ways to prevent discrimination on these digital platforms. How can we create experiences that encourage unbiased participation and fair transactions?
Virtual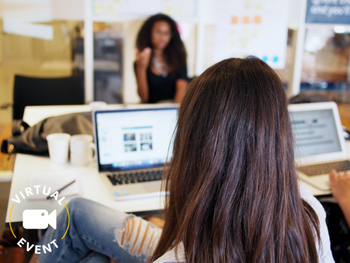 Designing the Future of Online Marketplaces Without Discrimination
Imagining a future where everyone is treated equally is much easier said than done. Cognitive biases help form one's worldview and have evolutionarily kept humans alive by enabling quick decisions based on very little information. Unfortunately, cognitive biases are also the foundation of stereotypes, prejudice, and discrimination.
As more online marketplaces are built, we need to design ways to prevent discrimination on these digital platforms. Design and tech teams have the power and opportunity to create inclusive online marketplaces that encourage objective participation and fair transactions.
Join our diverse panel of designers and behavioral scientists working on this problem across multiple industries, as we discuss how each of them are approaching this problem today, and how we might contribute to a future of platforms free from discrimination.
MODERATOR
Joie Chung, Director of Product Design, Realtor.com
Joie is a product/UX design leader who is passionate about the role design and tech can have in improving people's lives. She believes tech companies hold responsibility for ensuring their products are accessible and usable for everyone, while also creating a positive impact in the world. For over a decade, she has specialized in creating apps & tools to help people do their work and complete important tasks more safely, efficiently, and easily. Joie is currently leading teams at Realtor.com working to improve the home buying, renting, and selling process for everyone.
SPEAKER
Jacob Perez, Sr. Product Designer, Realtor.com
Jacob is a multi-disciplinary designer focused on creating equitable experiences across the spectrum of human ability. As the first designer to join the Inclusive Design and Accessibility team at Realtor.com, Jacob is helping set the foundation to remove the barriers that exclude people from buying, selling, or renting a home.
SPEAKER
Hailey Rollins, Senior User Experience Designer, Expedia Group
Hailey is an experience designer seeking to discover the intersection of diverging perspectives and delightful experiences. In her role at Expedia Group, she focuses on empowering diverse underrepresented voices to help provide innovative and inclusive travel solutions for everyone, everywhere.
SPEAKER
Robin Yip, Director of Product Design, The Knot Worldwide
Robin is a product design director whose ethos is to establish meaningful and equitable experiences that expand access, reduce user friction, and respectfully provide emotional context to the largest number of people. In her role at The Knot Worldwide, she's focused on empowering all couples to be able to bring their unique wedding vision to life.
As an active volunteer for organizations focused on bringing opportunities to those with the most need, Robin partners with companies, non-profits (SolveMIT, Pursuit, ChickTech), and communities to integrate human-centered design and connect technology to people's lives in purposeful ways.
SPEAKER
Rachel Rosenberg, Behavioral Scientist, Indeed
Rachel is a behavioral scientist, passionate about designing products and services for social impact. In her role at Indeed, she's started a behavioral science practice focused on reducing bias in hiring to help all people find meaningful work and employers find diverse talent to grow their businesses.
At ideas42, she led a portfolio of innovative pilots with local governments applying behavioral science and machine learning to reduce poverty and inequality. Rachel holds a B.A. from Stanford University in International Relations & Economics and an M.A. in Development Economics & Human Security from The Fletcher School at Tufts University.
INTENDED AUDIENCE
Product/UX/Interaction Designers, Product Managers, and UX Researchers. Anyone who works in digital marketplaces or real estate tech.