Driving Inclusive Design in Your Organization
NOVEMBER 9, 2021 3:30PM - 4:30PM
Looking to make sure your company is recognizing exclusion? This panel of leaders will talk about their journey in driving inclusive design within their organizations.
Projekt 202
1300 Guadalupe St, STE 300
Austin, TX 78701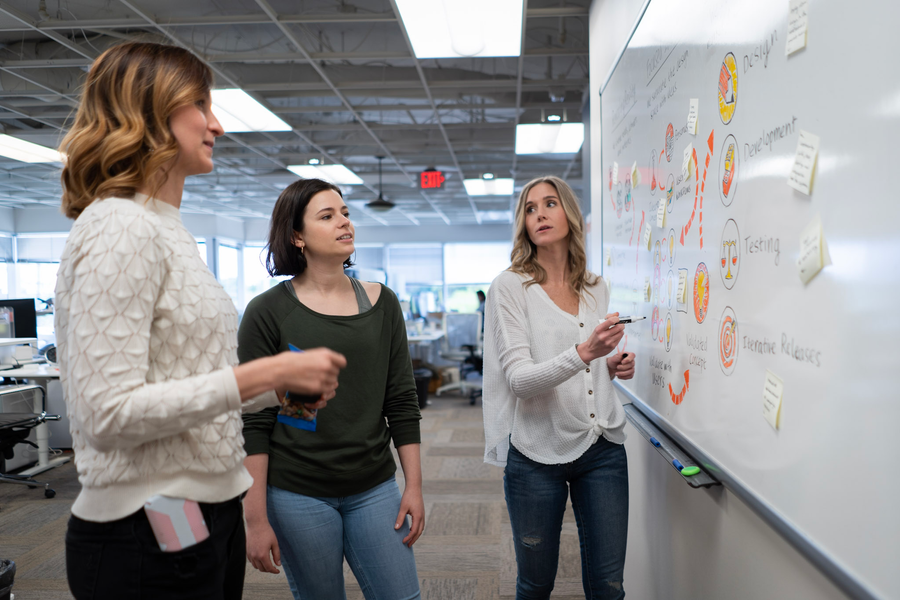 Driving Inclusive Design in Your Organization
Inclusive design is continuing to grow as a focus for companies looking to the future. Inclusivity can mean many different things, from individuals with challenges: visuals, dexterity, hearing, cognitive abilities, and speech -- to situational impairments, activity limitations, participation restrictions, and identity. We all have personal biases. This is why experience-driven practices involving users throughout the product design process is so important. How do you get your company on board to make sure recognizing exclusion is key to your process? How do you include inclusivity in your day-to-day?
This panel will discuss how to get your organization on board so that your products work for all people!
PANELIST

Abby Margolis, Director of Experience Design Research and Strategy, Signet Jewelers

Abby is a practicing Anthropologist, PhD, and relentless advocate of human-centricity in business strategy and innovation. Her calling card is combining perspectives from anthropology with design and business to create frameworks that help companies put people and their needs ahead of selling and solutioning. Abby has worked at companies of all sizes and industries to drive holistic and inclusive strategy, including Ziba Design, projekt202, Chicago Public Radio, Claro Partners and Gensler. She is currently Head of Experience Design Research and Strategy at Signet Jewelers and has taught university level courses at Lewis & Clark College, Colby College, and the Art Institute of Portland.
PANELIST
Layla Soileau, Lead Inclusion and Accessibility Specialist, HEB
At H-E-B, Layla works on the Design Language System (DLS) team and focuses on digital inclusive design, research, and accessibility education, tools, and practices. Over the last 17 years, Layla has had the privilege to design apps that help people get their groceries, access their U.S. Veteran benefits, plan corporate events, communicate easily with co-workers, keep track of their medicines, and more.

PANELIST

Elaine Zuniga, Lead Product Manager, Buoy Health

Elaine has worked at the intersection of creative design and software development for over 15 years, finding her strength in building products that solve problems for the end user. Her career has been driven by profound curiosity and her ability to lead teams within the design and tech space, from startup companies through enterprise organizations. Her passion for problem solving has given her the opportunity to create solutions for the underrepresented. Equipped with only a GED and no college education, Elaine knew that the journey to mission-driven work would not be easy but it would be worth it. She offers her time as a resource and mentor for women of color seeking non-traditional paths into STEM careers. Elaine is currently a Lead Product Manager at Buoy Health, an innovative healthcare tech company helping people find the right care at the right time.
PANELIST

Lisanne Norman, UX Research Leader, Gusto & Co-Founder, Black UX Austin

Lisanne is a passionate and highly curious learner who is always eager to explore new and interesting topics. She holds a PhD from Harvard University in African & African American Studies and Social Anthropology. While she initially thought she would immediately pursue an academic career, she has found herself working in the wonderfully fascinating world of user experience research at various tech research firms and companies. Over the past three years, Lisanne has become very adept at using the qualitative research skills she learned in graduate school to design and lead numerous research projects including a year-long journey mapping investigation into everyday personal computer usage. She has used many different research processes including: diary studies, contextual and in-depth interviews, surveys, usability testing, design thinking workshops, and use cases to name a few. So far in this journey she has worked with Sentier Strategic Resources, Dell, Visa, and currently is a UX Research Leader at Gusto Inc. Helping to create human-centered design solutions motivates her on a daily basis. Lisanne is also currently teaching African American Studies courses in addition to serving as the Associate Director of Diversity & Inclusion at the Hotchkiss School (of which she is an alumna). In her free time, she likes to continue her study of Black history, drink wine and craft beer, cook healthy delicious meals, and watch European serial dramas.
PANELIST

David Rodriguez, User Experience Architect, Dell
MODERATOR

Cris Almanza, Projekt202

Cristóbal (Cris) Almanza is an Experience Director at Projekt202, leading designers to create better experiences for people everywhere. Cris has been working across the design field since 2007, managing design teams across various industries and platforms, and has been a speaker on design and inclusion at international events.
LOCATION
projekt 202
1300 Guadalupe St
STE 300
Austin, TX 78701
INTENDED AUDIENCE
A wide range of: Designer, UX Designers, Product Owners, Researchers, Business Leaders, etc...
PARKING & TRANSIT
There is a garage nearby, and street parking.
1300 Guadalupe St
STE 300
Austin, TX 78701