Foresight CAN be 20/20: How To Get Alignment With Tough Stakeholders
NOVEMBER 11, 2021 2:00PM - 3:00PM
Stakeholders can derail a project, but if we work with them early, we can get alignment and buy-in and keep projects on track.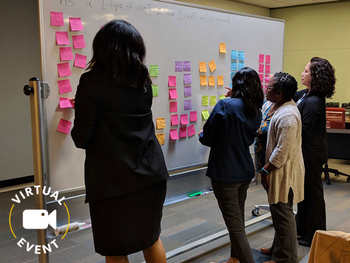 Foresight CAN be 20/20: How To Get Alignment With Tough Stakeholders
Too often we start our projects with a brief and vague direction, and without even understanding what our stakeholders really want. Sometimes they don't really know, either! That's why a vision session can be really helpful. In this session, Creative Director Cindy Brummer explains how a vision session with a government agency client helped align the product and keep everyone focused on a project that could have easily gone off course.
SPEAKER
Cindy Brummer, Creative Director, Standard Beagle
Cindy Brummer is Founder and Creative Director of Standard Beagle Studio, a user experience design agency in Austin. Cindy founded Standard Beagle where she currently leads a small but mighty team of UX designers and developers, helping clients make more delightful experiences for their customers. In addition to leading and growing her team, she mentors designers and teaches as an adjunct instructor for the UX/UI boot camp program through the University of Texas at Austin. Cindy earned a Master of Professional Studies in UX Design from the Maryland Institute College of Art and was selected as a Design Lead for The Johns Hopkins technology Innovation Hexcite Fellowship program. She is a proud Longhorn, after graduating with dual bachelor's degrees from UT-Austin. She is also a contributing author to the book "97 Things Every UX Practitioner Should Know," published by O'Reilly in June 2021.
DAY
Thursday, November 11th
ORGANIZED BY
Cindy Brummer
INTENDED AUDIENCE
Designers, product managers, strategists, account managers, project managers