Futuring Your Design Career: How to Craft Your Path in the Design Industry
NOVEMBER 10, 2021 6:30PM - 7:30PM
The last year inspired many designers to reassess their careers. Do I still love what I do? This panel will help you define your path and future your design career.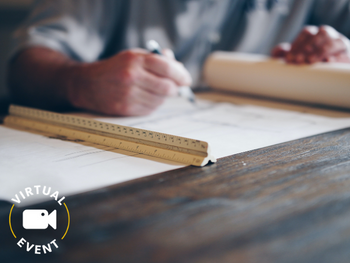 Futuring Your Design Career: How to Craft Your Path in the Design Industry
Over the last two years, many designers have started to reassess their careers. Do I still love what I do? Is there something more meaningful or fulfilling out there?
The quick rise of remote and hybrid work has accelerated this and started challenging conventional design career paths. What used to be established truths about design, work, and careers seem like malleable concepts now, open to change and iteration. But how do you craft a plan when you're not sure where to go? How do you work your way out of career uncertainty towards an inspiring blueprint for growth, realization, and meaning?
Join the panelists for a discussion about taking control of your design career. The four will talk about common misconceptions and share practical tips on using your design passion for concrete career advancement. Whether you're a new designer, looking to get started, or an experienced leader trying to calibrate your path, this panel will help you get on your way to future your design career.
SPEAKER
Datrianna Meeks, Senior Product Designer, Twitter
Datrianna is a writer, creator, and product designer. She transitioned to a career in design after a stint in strategy consulting, that introduced her to UX Design. Datrianna received her BBA from Howard University and her MFA in Interaction Design from SVA. After building her career at Amex, Spotify, and Trello, Datrianna now works at Twitter where she focuses on the health of the platform. When she's not pecking away at her laptop, she's probably listening to a podcast, shopping, or hanging out with her wife and dog.
SPEAKER

Jannis Hegenwald, Design Manager, Atlassian

Jannis is a design manager at Atlassian, where he supports multiple Confluence teams. Before joining Atlassian, Jannis developed design strategies for clients like Mercedes-Benz, Experian, Dell, and Samsung. Jannis enjoys sharing his experiences and has held talks in Germany, Japan, Switzerland, and the U.S.
SPEAKER

Fiona Nodar, Creativity Coach and former Design Manager, Workrise

Fi is a designer, artist and creativity coach with roots in tech as a multidisciplinary designer and leader. She's deeply passionate about creative empowerment for all people, and has made it a mission to help others expand into living more inspired, expressed and fulfilled lives.
SPEAKER

Natalie Armendariz, Partner and Design Director, Funsize

Natalie is a Partner and Design Director at Funsize, a digital product design agency in Austin, Texas that creates impactful products with organizations like Volvo, Dell, Oracle, Adobe, and Toyota Connected. Before co-founding Funsize, she held senior design positions at FJORD and R/GA NY, where she was responsible for designing some of the earliest smartphone solutions for influential companies such as Verizon, Citibank, AT&T, Flickr, Formula 1, and the NFL. As one of the first professional mobile product designers of the smartphone age, Natalie is a published designer who is respected for her design approach and passion for nurturing the client and employee experience.
SPEAKER
Amanda Sampson, Senior Manager, Talent Acquisition, Atlassian Amanda leads Atlassian's Global Internal Mobility team at Atlassian, as well as Specialty R&D Recruiting for the US (which for Atlassian, includes Design, Product Management, and Program Management for R&D teams). She spent many years helping build the global Design team at Atlassian, and has a special place in her heart for Designers and supporting them on their career journeys. After all, a Designer's path tends to be infinitely rich, interesting, winding, creative, and the marketplace for their talents is abundant with opportunity!
DAY
Wednesday, November 10th
INTENDED AUDIENCE
designers
PRICE
Free