Infusing Customer Engagements Within Your Product Development
NOVEMBER 10, 2021 10:00AM - 11:00AM
Let's talk about the ways, tools and techniques for infusing and engaging your customers within your product development process. Beginning, middle and end, not just at the end.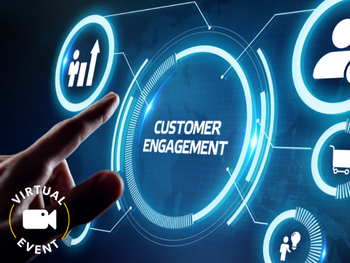 Infusing Customer Engagements Within Your Product Development
Regardless of the industry you are in, empathizing with your users face-to-face (or remotely) to learn and understand about their pain points and struggles lead to solving the right problems (which translates to business outcomes). Especially in the case of doing collaborative design and development with customers remotely, it requires us to change our ways, to work through the challenges, and enables us to welcome the growth that comes with it.
The Change allows us to dig deep, to think outside the box, and find creative ways to involve our customers within our agile product development process. With this change, one thing is clear now: remote collaboration with customers can be done.
The Challenges give birth to flexibility, sustainability, agility and resilience. With the challenges, another thing is clear: there are tools, methods and techniques to getting the feedback organizations need from customers to build the right thing.
The Growth means recognizing and celebrating the victories as they come, as teams gain insights and learnings from the trials of doing remote collaboration. With this growth, the last thing that is clear now: continuous improvement does not stop, and should not stop, just because there's a change and a challenge.
This panel discussion will discuss the Change, the Challenges, and the Growth we have had when it comes to doing remote collaborative design and development within our product development process, and as an added bonus, we will do a hands-on activity to gather feedback remotely using a favorite tool/technique, as well as share templates we use to plan and gather feedback from customers.
SPEAKER
Kenny Marks, Product Marketing Manager, Emerson Automation Solutions
Kenny is a Product Marketing Manager with Emerson Automation Solutions in Austin, TX. In this role, Kenny holds multiples responsibilities, all focused on future direction and prioritization for the DeltaV Distributed Control System. Before moving to Austin, Kenny was a Process Automation Engineer, also with Emerson Automation Solutions, in their Midwest Engineering Center in St. Louis, MO. In this role Kenny designed and implemented distributed control systems for Continuous and Batch processes in multiple industries. Before joining Emerson, Kenny worked as a software developer for DCS Corp., a defense contractor in Alexandria, VA. Kenny holds an Executive MBA from the University of Texas at Austin Red McCombs School of Business, and bachelor's degrees in Computer and Electrical engineering from West Virginia University. Outside of work Kenny enjoys traveling with his wife and two pups, watching sports, reading, and playing guitar.
SPEAKER
Amanda McConville, Release Train Engineer (formerly a Scrum Master), Emerson Automation Solutions
Amanda is a Release Train Engineer with Emerson Automation Solutions in Austin, Texas. In her almost 10 years with Emerson, she has held roles in build, development, test and project management. In her over 20 years in the software industry, no matter what her role, she has gravitated towards organizing and improving the processes around software development and soliciting customer feedback. Amanda holds a BAI in Engineering and a BA in Math from Trinity College in Dublin, Ireland. She is a SAFe 5 SAFe Program Consultant, Release Train Engineer, Scrum Master and DevOps practitioner. When Amanda is not at work, she likes to hang out with her kiddos. Failing that, she likes to run, kayak, read, garden and practice Yoga – not all at the same time!
SPEAKER
Duane Harnish, Product Owner, Emerson Automation Solutions
Duane is a Product Owner with Emerson Automation Solutions in Austin, TX. In this role, Duane is the "voice of the customer" to the Scrum Team, setting the priority for work being done and providing clarity into the desired outcome so as to maximize the BV ("Business Value"). Prior to becoming a PO, Duane had served as a Project Engineer (configuring and starting up our system at customer sites), Engineering-level Tech Support and as System Test Architect. Duane holds a BS in Electrical Engineering from Pennsylvania State University and has certifications as Project Management Professional (PMP), Certified Test Foundation Level, SAFe 5 Product Owner/Product Manager and DevOps Practitioner. Outside of work Duane and his wife enjoy homesteading with horses, goats, chickens, dogs and a cat.
SPEAKER
Mary Grace Francisco, User Experience Design Manager, Emerson Automation Solutions
Grace is a User Experience Design Manager at Emerson Automation Solutions in Austin, Texas. She is an evangelist and practitioner of a user-centered design approach for 2 decades now, expanding multiple industries. She is an advocate for solving complex problems by starting with user research, which explains why one of her favorite quotes is from Mark Twain: Supposing is Good But Finding Out is Better. Other times, Grace can be found leading UX and discovery workshops, collaborating, delivering delightful customer experiences, managing projects, and innovating. Grace is certified by CooperU for Interaction Design; LUMA Institute as a Certified Practitioner & Facilitator; by SAFe Agile as a Practitioner, Product Owner/Product Manager and DevOps; by Scrum Alliance as a Certified Scrum Master; and by Project Management Institute as a PMP. When Grace is not at work, she spends her time on Netflix, coordinating weddings, traveling with her 2 boys and husband, church ministry, and eating lots of mangos.
DAY
Wednesday, November 10th
ORGANIZED BY
Mary Grace Francisco