Intro to Customer Journey Mapping
NOVEMBER 12, 2021 11:00AM - 12:30PM
This interactive workshop focuses on creating and understanding a customer's journey to drive better businesses.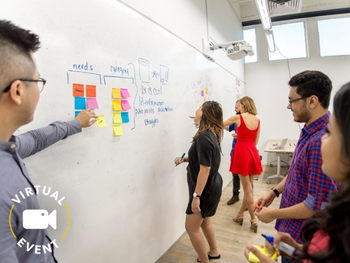 Intro to Customer Journey Mapping
Consumer empathy. It's the key to successful product strategy, design, and marketing. To successfully create an offering that dramatically shifts behavior, generates habitual engagement, and promotes a profitable cycle, we must first understand the consumer journey.
In this virtual class, you'll learn about the basics of customer journey mapping, and how it fits into the broader field of UX Design. Then, you'll get a chance to apply the fundamentals of customer journey mapping to a real-world scenario. Come learn the basics and gain the skills you need to create your first customer journey map!
Takeaways:
Understand why and how customer journey mapping is used in UX Design.
Learn proven consumer journey map design methodologies used for major brands and products.
Practice making your own consumer journey map!
SPEAKER
Brittney Posternock, Researcher & Workshop Facilitator, General Assembly
Brittney Posternock (BP) is a UX Facilitator. She has lead 50+ workshops and research projects at organizations like International Youth Foundation, World Bank, MicroStrategy and Capital One. Before shifting her career to user experience design, she managed operations teams at SoulCycle and Nordstroms and has 15+ years of experience in customer experience. General Assembly is a pioneer in education, specializing in today's most in-demand skills. The leading source for training, staffing, and career transitions, we foster a flourishing community of professionals pursuing careers they love. We offer leading-edge workshops taught live by top industry professionals on a variety of topics spanning design, digital marketing, data science & analytics, programming & more.
ORGANIZED BY
General Assembly
INTENDED AUDIENCE
Those interested in learning about user experience design & research. No previous experience required. This is a beginner-level class.