Letterpress Workshop
NOVEMBER 8, 2021 4:30PM - 6:00PM
A hands-on letterpress experience, bridging new technology with antique printmaking techniques. Explore the Rob Roy Kelly American Wood Type Collection and take home an original print.
2300 Trinity St.
Austin, TX 78712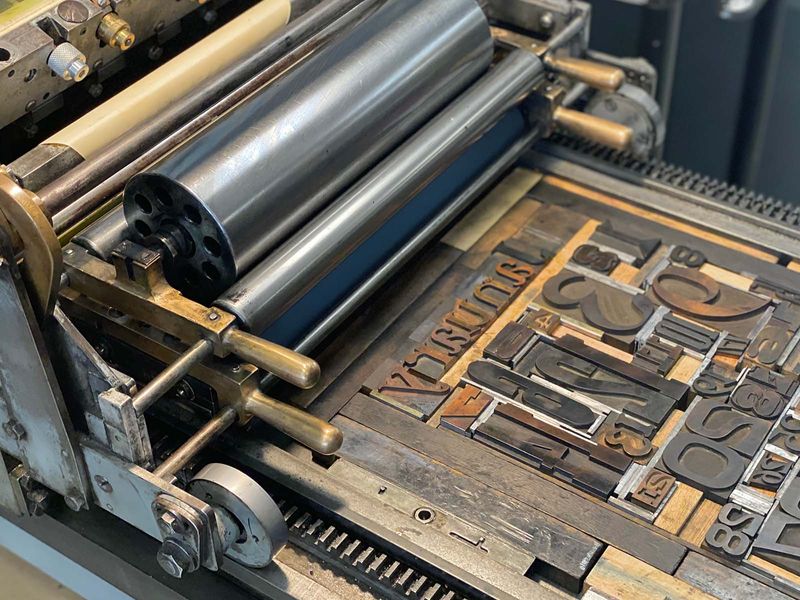 Letterpress Workshop
In 2021, analogue printmaking is still very alive. The Rob Roy Kelly American Wood Type Collection is an archive of letterpress type from the 1800's, housed in the School of Design and Creative Technologies at the University of Texas at Austin. Using analogue equipment and processes, we bridge contemporary aesthetics with antique techniques to shift our perspectives on typography and graphic design.
This event will involve a hands-on printing experience utilizing one of our Vandercook printing presses, and participants can take home an original poster.
SPEAKER
Henry Smith, Fabrication Manager, UT Austin SDCT
Henry Smith is a multi-media artist, designer, and educator. Focused around composing experiences, designing events, and stimulating conversational opportunities, Smith's practice has traversed many applications on a local and international scale. Working primarily in print, sculpture, and social practice, Smith explores channels and venues of community-building and information exchange. Many of the same rhetorical vehicles are utilized across his practice of commercial design and his personal art practice.
As manager of the Design Lab, and caretaker of the Rob Roy Kelly American Wood Type Collection, Smith is dedicated to bridging the forward progress of creative technology with the foundational design tools of centuries past. Since taking on this role in early 2019, Smith has sought to reconsider how the lab is meeting the needs of current students' interests, as well as encourage hands-on experimentation with analogue tools and historical printmaking media. As our college is evolving, Smith seeks to keep the lab in-stride with this forward momentum, without losing hold of its vital roots.
Smith was born and raised in the Midwest. He received a Bachelor of Fine Arts degree in Studio Art from the University of Texas at Austin in 2017
SPEAKER
Kate Canales, Chair of Design Department, UT Austin SDCT
Kate Canales is a Distinguished Senior Lecturer and Chair of the Department of Design in the School of Design and Creative Technologies at the University of Texas at Austin. Previously Canales was a clinical professor and the director of Design and Innovation Programs at the Lyle School of Engineering at Southern Methodist University. She is the founder and director of SMU's pioneering Master of Arts degree in Design and Innovation (MADI) which trains students of all backgrounds in human-centered design as a method for innovating in any field. Kate has a background in mechanical engineering, product design and design research, and much of her recent work has focused on building creative capacity inside organizations.
Prior to SMU, Kate worked as a designer and design researcher at IDEO and as a creative director at frog design, both internationally recognized leaders in the field of design and innovation.
LOCATION
2300 Trinity St.
Austin, TX 78712
ORGANIZED BY
UT Austin School of Design and Creative Technologies
INTENDED AUDIENCE
Typography or printmaking enthusiasts, though it is intended for anyone.
PARKING & TRANSIT
Garage parking, street parking nearby
2300 Trinity St.
Austin, TX 78712