The Dissolving Line Between Business and Design
NOVEMBER 9, 2021 5:30PM - 6:30PM
Attend a panel discussion consisting of over 75 years of experience in shipping user experiences to learn more about the ongoing dialog between Business and Design.
The Foundry, at The University of Texas
2306 Trinity St
Austin, TX 78712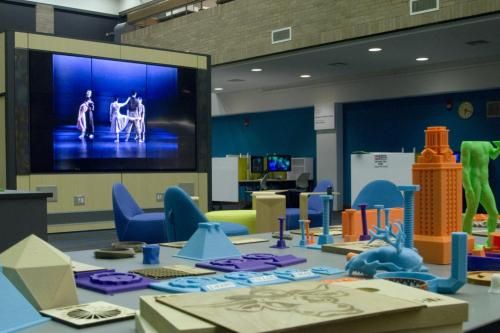 The Dissolving Line Between Business and Design
When it comes to working within a company, "business" often sets the goal, while "design" shows you how to get there. Given the integral nature of the relationship between the two, it's a surprise that both disciplines largely remain siloed, abound with language barriers. With designers now at the table taking part in larger business discussions, creating a symbiotic relationship between creative and business teams has never been more crucial to the health of any organization.
Are you a designer who works with clients or project managers? Do you represent the needs of the business in discussions with developers and designers? Join Doreen Lorenzo, Jose Colucci Jr, Allison Fonder, Raquel Breternitz, and host Joe Meersman for a panel discussion on the evolving dialog between Business and Design, and why it's important to zero in on this topic in today's labor economy. Attendees will benefit from over 75 years of experience driving outcomes into the hands of users. The University of Texas School of Design and Creative Technologies' Foundry space will host this facilitated conversation. A reception will follow, affording opportunities to meet the panelists in an informal setting.
SPEAKER
Joseph Meersman, Senior Director of Design, Intapp
Joe Meersman is the Senior Director of Design at Intapp. Over the last decade, he has led teams delivering cognitive-enabled applications and services across Fintech, IoT, and various areas of Cloud Computing. As part of IBM Design's core team, he educated over 1000 non-designers in Design Thinking and activated practitioners working on product teams across the globe. Before joining IBM, he delivered User Experiences for Razorfish, Motorola, Herman Miller, Walgreens, State Farm, Belk, Veolia, Highmark, Polycom, Covidien, MSA, Allstate, Follett, Samsung, and Chrysler. He lives in Austin with his wife, two children, and a Great Pyrenees.
SPEAKER
Doreen Lorenzo, Assistant Dean, University of Texas School of Design and Creative Technology
Doreen Lorenzo is a successful leader of global creative firms who advises and consults with companies from Fortune 100 to startups on design and innovation issues. The former president of the global design firms, frog and Quirky, she is now the Assistant Dean in the School of Design and Creative Technology at the University of Texas, a co-founder of the mobile video insights firm Vidlet, a board member and advisor of several startups, and a columnist for Fast Company Co.Design. A recognized thought leader on business and design issues, she speaks publicly about her signature leadership style and the power of empathy to drive business results. Most recently Texas Monthly named Doreen as one of the 15 innovators reshaping Texas. Doreen is an ardent believer in the advantages of "soft skills" like empathy and humor in business. She speaks at industry conferences, at private events, and to the media about her experience using these often overlooked skills to understand and motivate creative people. A driven and successful woman in a male-dominated industry, Doreen also speaks about women in leadership and coaches aspiring women leaders to help them find their own paths to success. In 2015 Doreen joined forces with former frog co-founder Patricia Roller, to launch Vidlet, a mobile video platform that transforms how brands capture insights from customers and employees. From 2013 to 2015 Doreen was president of Quirky, where she oversaw product development and operations. Prior to Quirky she worked at frog for 16 years, including 7 years as President. While there she drove strategy, oversaw worldwide operations and delivery, and led the iconic design firm to record growth. As a thought leader, Doreen is a frequent resource to many publications. She has been featured in ABC News, Bloomberg, Fast Company, Fortune, The New York Times, and many other media. She served as a member of the World Economic Forum's Global Agenda Council on Emerging Technologies.
SPEAKER
Allison Fonder, Senior Producer, Core77
Allison Fonder is a content lead at industrial design editorial platform Core77 with experience in brand strategy and journalism within the tech and innovation space. She has served as chair of two consecutive Core77 design conferences, and has conducted feature interviews for Core77 with some of the top thought leaders working in design today. Her writing has also been featured in publications such as MOLD and Kaleidoscope Magazine, and was co-founder of her own publication entitled Wut Magazine. Allison has programmed and hosted panels on design and innovation with the likes of organizations such as CES, MistyWest, Smart Design, and more.
SPEAKER
José Colucci, Director of R&D, Dell Medical School at the University of Texas at Austin
José Colucci serves as the Director of Research & Development of the Design Institute for Health (DIH), a collaboration between the Dell Medical School and the College of Fine Arts at the University of Texas at Austin. The DIH is a unique institution, where design approaches to solving systemic healthcare and population health challenges are integrated to medical education at Dell Medical. His mission at the DIH is to uncover new opportunities in the intersection of design and health and humanize technology. Recently, he's been researching and speaking about the impact of aging on society and its implications for the design of products and services. He speaks frequently at conferences and events on topics from Design Thinking and Human Centered Design to the Future of Healthcare. Before joining the DIH, José was a Sr. Director and Associated Partner at IDEO, where he worked for 16 years. IDEO is one of the most prominent design and innovation firms in the world. He was also the Vice-President of Research & Development for ITI, developer of high-resolution, pen-based computer interfaces in Canada; and prior to that, he was the General Manager of the Medical Engineering Division at FUNBEC - Brazil's largest manufacturer of medical electronics for cardiology. José has a BS in mechanical engineering by the University of São Paulo (USP), an MS in industrial design by USP, and also an MS and a Ph.D. in biomedical engineering by the University of Illinois at Urbana-Champaign. He taught as a guest lecturer at Harvard, MIT Sloan School of Management, and Olin School of Engineering. He is a member of the advisory board at the University of Malardalen (Sweden) and was a collaborator at Harvard's Global Health Delivery program. Currently, he has a part-time teaching appointment at the University of Texas at Austin.
SPEAKER
Raquel Breternitz, Head of Design, Aperture Health
I am an award-winning design leader and strategist, with years of experience across diverse mediums, problem spaces, and domains. I believe in strong, empathetic leadership for autonomous, creative design teams. My work is connected by a passion for accessibility and inclusion, research-driven design thinking, and a hunger for tackling complex, challenging problems. I also speak on topics spanning user-centered design and research, accessibility and inclusion, comics for design and for mindfulness, and design in politics.
LOCATION

2306 Trinity St
Austin, TX 78712
ORGANIZED BY
School of Design and Creative Technologies - University of Texas at Austin
INTENDED AUDIENCE
Design Leaders, Designers of varying levels of professional experience, potential Graduate Student candidates.
2306 Trinity St
Austin, TX 78712