The Future of Work: How to Prepare Your People and Your Organization For What's Ahead
NOVEMBER 11, 2021 4:00PM - 5:00PM
Nobody knows what the future will look like, but we do know what workers need to thrive anywhere. Leaders can begin by redefining inclusive work policies and strengthening worker-employer relationships.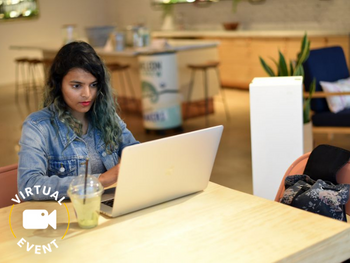 The Future of Work: How to Prepare Your People and Your Organization For What's Ahead
Human resources policies and leadership support have largely catered to onsite workers, but new workforce segments are emerging, and their needs are different. Our research finds that organizations are struggling to provide models that satisfy the needs of all workers all the time. The "typical" employee experience no longer exists.
Asking where people should work in the future might be the wrong question. A better question is: What unleashes a person's potential, enabling them to be healthy and productive, regardless of where they work? In fact, it's a critical question, considering that more than half of our respondents have a somewhat or highly negative stance toward the future of work.
Inspire the future of work - No one knows exactly what the future will look like, but we do know what workers need to thrive anywhere. Leaders can begin by redefining work policies and strengthening worker-employer relationships.
Accelerate Modern HR - Develop a strategy that ensures workers are Net Better Off as they transition to new workspaces, teams and roles. Cut through new complexities that have emerged to unlock human ingenuity.
Design work around people - There is no one-size-fit-all model, so organizations must respond to the needs of all types of workers. Organizations that support psychological and physical safety will foster trust.
Build digital fluency - Digitally fluent organizations have higher growth and are better places to work. Build digital fluency at all levels, designing tailored skilling and learning paths that serve different needs.
Lead with humanity - Responsible leaders create environments in which the Modern Board, CEO and C-suite make sure workers are Net Better Off. They build a fail-fast culture of ongoing experimentation and improvement.
SPEAKER
Sarah Sanchez, Senior Manager, CEO Transformation & Responsible Business, Accenture
SPEAKER
Kristen Hines, Managing Director, Talent & Organization Strategy, Accenture
Kristen Hines is a Managing Director for Talent & Organization (T&O) within Accenture Strategy. Kristen is on Accenture's global leadership team for CEO Transformation Change and leads the North America Inclusion & Diversity practice. Kristen brings over two decades of experience across a variety of clients and industries, with expertise in Health and the Public Sector. She has focused on large-scale change strategy and management, C-suite leadership alignment, M&A integration, organization design, HR strategy, and employee experience.
Kristen has been with Accenture since 2006 and most recently led the Midwest T&O practice, helping organizations develop and implement strategy and transformation programs to improve employee performance and deliver bottom-line results.
Prior to joining Accenture, Kristen worked in the Corporate Strategy and Transformation group for RSM Robson Rhodes, a professional services firm based in London. In addition, Kristen worked as an investment banker with CIBC World Markets in New York, serving clients in the Consumer Products industry.
SPEAKER
Jake Brody, Managing Director, South Market Interactive Lead, Accenture
Jake is a senior strategic business and client leader, collaborator and innovative thinker with 20+ years of experience leading and growing impactful teams and organizations. He believes in the power of human experiences to make meaningful and impactful change that matters to businesses, organizations and governments and those they serve. Jake's expertise is in growing businesses, delivering enterprise and strategic transformations, leading inclusive and diverse teams, and driving digital and business disruptions.
Jake leads Accenture Interactive's work in their South Market Unit across 13 states, Puerto Rico and the District of Columbia. With a passion for operating where innovation meets purpose, he is responsible for working across Accenture's industries and services to help our clients create the best experiences on the planet.
Prior to this role, Jake led Accenture Federal Services work within the Commerce, Energy & Exploration sector accountable and responsible for all aspects of AFS's business with the US Departments of Commerce and Energy, NASA, and the Environmental Protection Agency. Previously, he served as the Civilian Portfolio Sales Lead with responsibility for all business development and growth initiatives across Accenture's work with civilian federal agencies and nonprofit organizations.
SPEAKER
Tamara Fields, Office Managing Director for Accenture ATX
Tamara is responsible for bringing innovation to clients, recruiting and retaining top talent and strengthening Accenture's impact in the Austin community. As a business veteran with more than two decades of cross-industry, multilateral project management experience, Tamara helps better serve clients with creative, strategic, and transformative solutions. Passionate about promoting an inclusive and diverse workplace, Tamara serves as the U.S. co-lead for Accenture's women's employee resource group and the inclusion and diversity lead Accenture's Austin office. In support of the company's goal to achieve 50/50 gender balance by 2025, she advocates that Accenture's rich diversity makes teams stronger—more creative, innovative and competitive—helping Accenture to better serve clients and communities.
An Austin native and University of Texas graduate, Tamara serves on the Red McCombs School of Business Advisory council and is Accenture's former executive recruiting sponsor for UT. She is a board member of the Texas Conference for Women. She is also Board of Trustees board member and serving on Finance Committee for Paul Quinn College, a historically black college in Dallas.
Tamara serves on Austin Chamber of Commerce's Executive Committee as Vice Chair of Government Relations and is a recipient of the Austin Chamber of Commerce's Greater Austin Business Award for Executive Leadership. She was named the Texas Exes Black Alumni Network's 2019 Legacy Alumnus of the Year and is a winner of Austin Business Journal's 2019 Profiles in Power and the Central Texas chapter of the Texas Diversity Council's 2018 DiversityFIRST awards. She also serves as a coach and mentor in and outside of Accenture, helping people find their voice and preparing them for career advancement.
DAY
Thursday, November 11th
INTENDED AUDIENCE
Organizational Leaders