The Game of Rent: A Gamified Conversation About Austin's Affordable Housing Crisis
NOVEMBER 10, 2021 4:00PM - 5:30PM
Join NOMA Central Texas to play the Game of Rent, a board game designed to build empathy and awareness about Austin's affordable housing crisis.
Ann Richards School For Young Women Leaders
2309 Panther Trail
Austin, TX 78704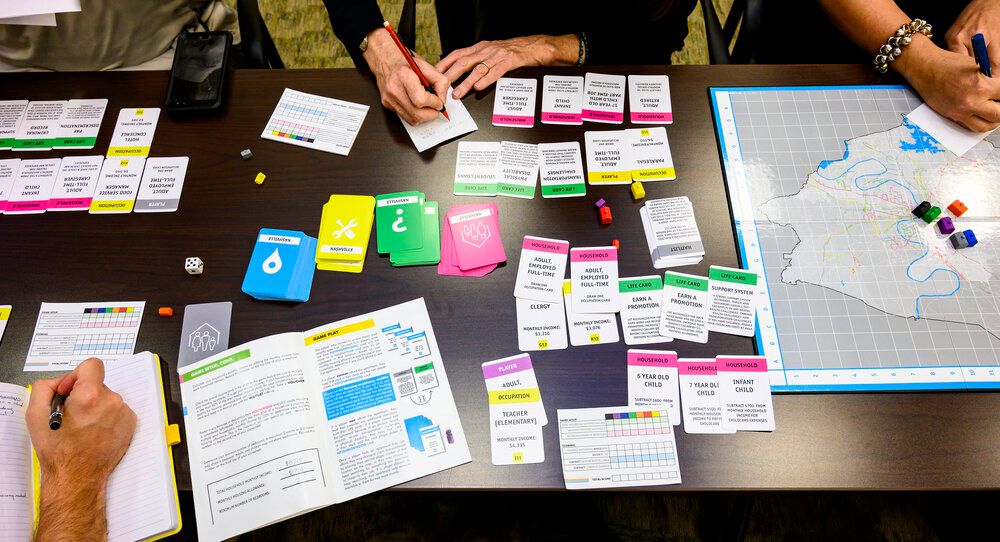 The Game of Rent: A Gamified Conversation About Austin's Affordable Housing Crisis
In The Game of Rent, players are given a new identity - a new job, new family, and new life circumstances. Based on that situation, each player is challenged to find an apartment they can afford - and access - as quickly as possible. Local Austin data, including average salaries and actual rental rates, helps players understand the real-life housing challenges people in their community may face.
During this 1.5 hour session, attendees will play the game and join in a facilitated discussion designed to help participants walk in someone else's shoes. Through play, we hope to create productive conversations that can help us move from conflict towards compassion and a desire to find common ground and creative solutions.
SPEAKER
Seema Kairam, Associate, Able City
Seema Kairam is an Associate and Design Lead in Able City's San Antonio office. Seema is passionate about designing the built environment to improve quality of life and create access to opportunity for historically marginalized communities. Seema is a registered architect, LEED AP BD+C, EcoDistricts AP and an Enterprise Rose Architectural Fellow (2018-2020). She is a member of the Association for Community Design, the Central Texas chapter of NOMA and the design as protest collective.
SPEAKER
Ingrid Gonzalez Featherston, Senior Design Architect, MF Architecture
Ingrid currently works at Matt Fajkus Architecture as a Design Architect, where she works on a variety of project scales that each search to address site specificity and the role that materiality can play in defining spaces. Outside of her role as a Design Architect, Ingrid is a strong advocate for community engagement through her participation with the ACE Mentor Program of Austin, AIA Austin, and NOMA Central TX. By engaging in each of these organizations, she is strengthening the importance of education and mentoring of our future leaders, where creating awareness and opportunities to become an agent of change within your own community is key to a more equitable practice of Architecture.
SPEAKER
Beau Frail, Principal Architect, Activate Architecture
Beau Frail, AIA, NOMA, is the founder and Principal Architect of Activate Architecture, a design and community engagement firm based in Austin TX, that collaborates with communities, cities and clients to create socially engaged, sustainable and beautiful spaces. Beau has managed multiple complex adaptive-reuse projects in downtown urban cores, led public interest design charrettes and developed outreach programs with cities promoting affordable housing. Beau served on the Texas Society of Architects' Board of Directors and on the AIA National Associates Committee. Beau's civic dedication includes serving as a Design Commissioner for the City of Austin and as a founding member of the Open Architecture Collaborative Austin chapter. Beau was honored with the 2018 AIA Austin Honor Award for Community Service and the 2016 Associates Award from the American Institute of Architects. Beau was selected as a Next City Vanguard in 2020, an AIA Design Justice Fellow in 2018 and the Association for Community Design Fellow in 2017. He received his Bachelor of Design in Architecture from the University of Florida and his Master of Architecture from the University of Texas at Austin. Beau is passionate about social impact design and advancing justice, equity and inclusion, including within the LGBTQIA+ community.
SPEAKER
Max Nochez, Senior Project Coordinator, GFF Architects
Max is currently a Senior Project Coordinator in GFF's Austin office and has over thirteen years of experience managing projects in various areas of architecture such as mixed-use urban design, single-family residential, multi-family residential, master planning, commercial, interior design, industrial building design, historic preservation and conservation, forensic architecture, institutional and food hospitality, but specializes and has great interest in multi-family residential. He joined GFF in 2020 and participates in local architecture organizations, such as the local AIA Austin chapter, the local Latinos in Architecture, NOMA Central Texas. Within the firm, he is a part of GFF's new Equity & Inclusion initiative, as well as participating in firm recruitment.
LOCATION

Ann Richards School For Young Women Leaders
2309 Panther Trail, Austin, TX 78704
DAY
Wednesday, November 10th
ORGANIZED BY
NOMA Central TX
INTENDED AUDIENCE
Anyone who is interested in housing: citizens, neighbors, housing advocates, elected officials, educators, developers, and designers.
2309 Panther Trail
Austin, TX 78704