Uncertain Futures: Using Strategic Foresight to Guide Transformation
NOVEMBER 8, 2021 9:00AM - 10:00AM
Nobody can predict the future, but we can generate possible futures through strategic foresight. Learn about foresight methods and how it's used in relation to service design!
Virtual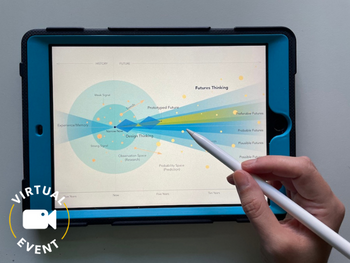 Uncertain Futures: Using Strategic Foresight to Guide Transformation
What do you do when tomorrow is nothing like yesterday? Nobody can predict the future, but we can use trend analysis and strategic foresight to proactively move toward preferred futures instead of reacting to emergencies. By making possible futures feel real, we can "back-cast" how to prepare for them. This is an introduction to futurism in relation to service design and strategy, and how it can be applied to client work through a futures mindset.
SPEAKER
Kelly Tsao, UX Designer, Q2
Kelly is a product and service designer, with five years of experience in data-heavy enterprise software products and complex service ecosystems. As a consultant, she has worked in a wide variety of industries, including education, security, and healthcare. Previously, she worked in startups and marketing design. She is currently studying human-AI interaction + collaboration and strategic foresight.
INTENDED AUDIENCE
General audience. Anybody who is curious about emerging fields and methods and how they can be integrated into strategy, service design, and organizational design.