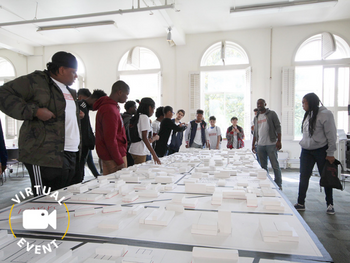 Un/Making White Austin: Black Futurism for a Jim Crow City
This session will explore the histories of racialized design, planning and policy that have shaped the current White, settler colonial and anti-Black city of Austin. Participants will be introduced to concepts of Afrofuturist/Black futurist design, and to methods of speculative futurist design exploration which they can employ in the pursuit of design practice for racial justice.
Inspired by Alisha B. Wormsley's artistic project 'There Are Black People in the Future', this session proposes there are Black people in Austin's future. This session will educate participants about Black Austinites' exercise of agency through community design and development from the Reconstruction era to the present, and the White supremacist design, planning and development which have been deployed to oppose their efforts, creating the conditions of Austin's present Whiteness. Participants will leave with a greater understanding of how race and racism shape Austin's built environment, and of their positionalities within efforts seeking design justice.
The Collaborative Design Workshop (collab.) researches, advocates and designs for racial justice through feminist, queer practices. Participants of all racial and ethnic identifications are welcome to attend.
SPEAKER
Chris Daemmrich, Facilitator, Collaborative Design Workshop
Facilitator Chris Daemmrich, born and raised on Tonkawa land in Austin, is a design justice advocate and educator based in New Orleans, LA. His practice, the Collaborative Design Workshop (collab.), advocates, strategizes and designs for racial justice through feminist, queer practices. Chris is a 2017 graduate of the Tulane School of Architecture. He currently serves on the board of NOMA Louisiana, as steward of the Architecture Lobby's Racial Justice Working Group, and a co-facilitator of Emergent Grounds in Design Education.
SPEAKER
Raasin McIntosh | Founder and CEO, Raasin in the Sun; Parks and Placemaking Director, Downtown Austin Alliance
Raasin became rooted in Austin a little over 20 years ago when she attended the University of Texas. She graduated with her Bachelor of Arts in Communications. A big believer in continuing education, Raasin is currently working on a master's degree in communications through Texas Southern University. She was also selected for the Mural Arts Institute in Philadelphia, Pennsylvania, and is attending the national program to learn more about art and environmental building capacity.
In 2015, McIntosh founded Raasin in the Sun, a non-profit that serves Austin by cultivating resilience through the arts and environmental initiatives. The organization focuses on urban beautification and creative placemaking through murals, clean-ups, community gardens, storytelling, public art activations, vacant lot initiatives, and more. Through previous work and her ongoing with with her non-profit, Raasin has extensive experience in managing, producing, facilitating, and coordinating, mural arts, public arts, creative placemaking, restorations, and community
ORGANIZED BY
Chris Daemmrich
INTENDED AUDIENCE
Designers, planners, policymakers