(VIRTUAL) Opening Night
NOVEMBER 8, 2021 9:00PM - 10:00PM
Can't join our opening event in person? Tune in to hear the talk online.
Virtual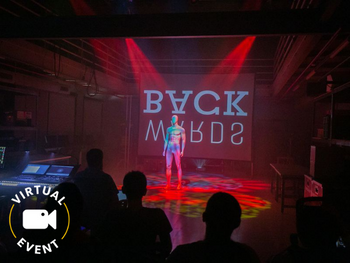 (VIRTUAL) Opening Event
Austin Design Week and the School of Design and Creative Technologies together invite the Austin design community to celebrate futuring, being together, and the next generation of designers. While this event is happening at UT School of Design and Creative Technologies in person*, we're recording it so our virtual attendees can also take part. Join us to hear from Austin's premier futurist and help us kick off ADW21.
Opening night is generously sponsored by Nelda Buckman of Nelda.com
*Do you want to attend the in-person event? RSVP here.
SPEAKER
Jake Dunagan, Founder and Futurist, Institute for The Future
As a pioneer of design futures, Dr. Jake Dunagan has been at the forefront of the practice and pedagogy of the field for the last 15 years. Jake brings both theoretical rigor and hands-on practical knowledge to his work. He has taught and mentored design futures students for over 10 years at leading institutions around the world such as the University of Texas' Center for Integrated Design and MA in Design in Health, California College of the Arts' Design Strategy MBA program, and CENTRO in Mexico City. Some of his career highlights as a design futurist include ground-breaking projects including immersive scenarios for for the State of Hawaii 2050, a pandemic-based alternate reality game for the CDC, visions of future cities with the US Conference of Mayors, exhibitions for the Dubai Museum of the Future, and with many other civic organizations, foundations, and businesses. Jake holds a Ph.D. University of Hawaii, Manoa Political Science (Alternative Futures), 2011, MA Temple University Anthropology (Visual Communication), 2000, and BA Auburn University Anthropology (Radio, TV, Film), 1997.
SPEAKER

Doreen Lorenzo, Assistant Dean, School of Design and Creative Technologies

Doreen Lorenzo is a successful leader of global creative firms and has advised Fortune 100 companies on design and innovation issues for decades. In August 2017, she was named Assistant Dean of the newly founded School of Design and Creative Technologies, a collaboration between the Department of Design and Center for Arts and Entertainment Technologies. Previously, Lorenzo served as Director of the Center for Integrated Design at the University of Texas at Austin. She is a co-founder of mobile video insights firm Vidlet(link is external), as well as a board member and advisor of several other startups, and a columnist for Fast Co. Design and Medium. A recognized thought leader on business and design issues, she speaks publicly about her signature leadership style and the power of empathy to drive business results.
From 2013 to 2015 Doreen was president of Quirky(link is external), where she oversaw product development and operations for this fast-growing company. Prior to Quirky she worked at frog(link is external) design for 16 years, including seven years as president. While president of frog she drove company strategy, oversaw worldwide operations and delivery, and led the iconic design firm to record growth.
Doreen earned a master's degree in communication and media studies from Boston University and a bachelor's degree in theatre from the State University of New York, Stony Brook.
SPEAKER

Ramón H. Rivera-Servera, Dean and Professor, College of Fine Arts at The University of Texas at Austin

For over 20 years, Ramón H. Rivera-Servera has been a scholar focused on the ways the arts contribute to social transformation—from the emergence of collective identities and politics facilitated by media and performance cultures to the activation of art-based methodologies to address moments of collective crisis. He has produced award-winning scholarship, developed curatorial and arts development practices and platforms and advanced a significant portfolio of externally funded practice-based projects focused on the ways the arts can help us become a more intentionally collaborative and ethical society. Rivera-Servera has been specifically focused on how the arts generated from queer Latinx, Caribbean, Mexican and Afrodiasporic contexts across North America advance critical knowledges that build and sustain community through creative practice.
ORGANIZED BY
University of Texas School of Design and Creative Technologies and Nelda.com
INTENDED AUDIENCE
The entire Austin design community