Waterloo Park: Investing in Austin's Urban Open Space
NOVEMBER 10, 2021 8:30AM - 9:30AM
Waterloo Park represents the largest economic parkland investment in generations. The social, economic, and environmental benefits from this transformation of our urban fabric speaks to the future vision of Austin.
Waterloo Park
500 E. 12th St.
Austin, TX 78701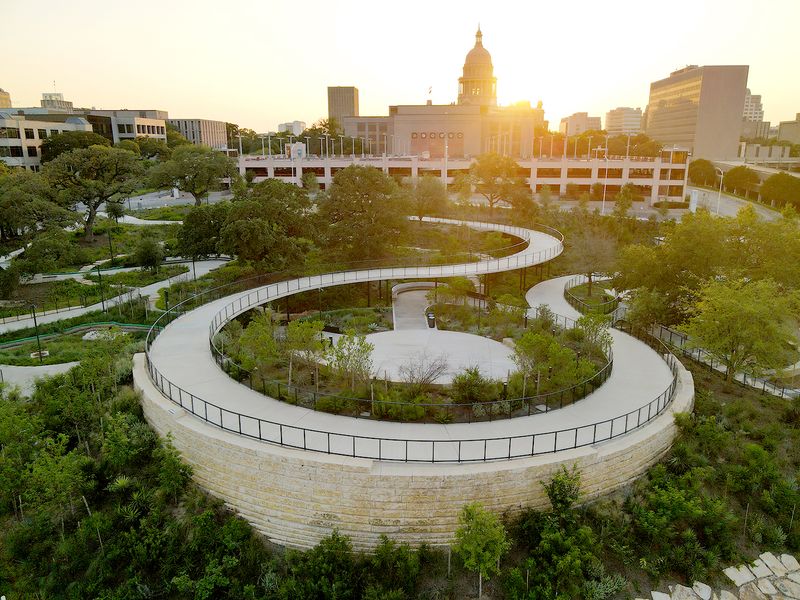 Waterloo Park: Investing in Austin's Urban Open Space
As the cornerstone of the largest urban creek restoration in the nation, Waterloo Park represents a paradigm shift for the City of Austin. The completion of this park—a collaborative effort between the City of Austin, Waterloo Greenway, and countless creative problem solvers from diverse design disciplines—has transformed a blighted urban creek into a world-class public open space. Waterloo Park emphasizes the importance of urban ecology, social and environmental change in the public realm, and the power of parks and open space to be a catalyst for economic revitalization. The Park represents a new vision for equitable urban park space by enhancing multimodal connectivity, promoting community, and activating open space though art, educational & cultural programming, nature play and special events. Join local landscape architecture firm dwg. on a tour of the 11-acre flagship park space along the reinvigorated Waller Creek corridor.
SPEAKER
Daniel Woodroffe, President + Founder, dwg.
As President and Founder of dwg., Daniel is a leading voice of the urban architectural landscape. His work explores the relationship between landscape, architecture, and infrastructure to create space that is socially, environmentally, and economically equitable and resilient. His work promotes adaptive reuse and climate resilience across a multitude of scales. He is passionate about crafting engaging, social spaces using authentic materials and local crafts and trades to imbue a rich sense of place unique to each project. Through the efforts of his Austin-based firm, he has helped shape the city throughout its greatest period of change and sees each new project as an opportunity to further improve the future of our city.
LOCATION

500 E 12th St.

Austin, TX 78701

Meeting spot cross streets: E. 13th St & Trinity St Meeting point at the deck under the heritage trees.
DAY
Wednesday, November 10th
INTENDED AUDIENCE
Open to all attendees
500 E 12th St.
Austin, TX 78701